Originally published in h-Mag with the indomitable Jessica Rosero
Romance is in the air! Here at hMAG we think there are many possible ways to spend Valentine's Day. While a romantic dinner for two is typically thought of as the domain of females, we think many Hoboken women would prefer a night out with the ladies. Below, you'll read about two very different ways to spend the holiday. Our writers Jess and Hunt describe a night out and give their opinions on how the other half lives. Look for their comments in bold. Dear readers, we invite you to pick your favorite. Read on!
Dinner For Two
Hunt: Ah, Hoboken… When I first moved here 12 years ago, I thought it would be a brief stay. But I fell in love with it and have been here ever since. In that time, I have obviously aged. What used to be a happy, single, crazy, drunk-on-life 23 year-old is now a mellow, confident, about-to-be-married 35 year-old.
So my tastes have changed. My idea of what makes a night "fun," "wild," or "romantic" have shifted also. So what is a great, romantic night out in Hoboken for a fun, youngish couple? Well, there are plenty of options. But for me, it unfolds like so…
(Jess: Oh really! Do tell my dear Hunt. I would love to know how the other half lives!)
After my first love, my lovely Keren, I'll start with my second love: cheese. Lots of cheese. Melted, gooey, yummy Melting Pot cheese! The Melting Pot is a great place when you want to spend some time with your loved one. The pace is relaxed, the booths are comfy and the wine list is extensive.
Starting with the melted cheese appetizer and working through the dinner menu, you get to play amateur chef. It's interactive and fun. And best of all, you get to spend an hour or so talking, telling stories and just enjoying each other's company. With views of NYC out the window, it makes for a great start to an evening.
(Jess: While I do agree that views of New York City and enjoying the company of your loved one sounds wonderful, but The Melting Pot!?! Really Hunt? You know when I want to play chef I stay home and cook. Perhaps that's why you use the phrase "amateur chef." Hmmm, is it too daunting for you to cook for your lady?! Why go out to a restaurant to "cook" your own food? Perhaps you need a little help from Rachel Ray! OMG – it's EVOO baby for a 30-minute meal!)
Drink Yer Fill
Jess: There is nothing better than grabbing dinner and drinks with the girls when the day is done. So toss aside your business casual look, put on your finest, and let's hit the town. I grab my favorite accessories for an evening out…my girls Cat and Marilyn.
(Hunt: Hmmm… see and I thought she was going to say Cab and Merlot.)
We start out at The Madison Bar and Grill to wet our appetites with one of their signature cocktails. If you head out on a Tuesday night, Martinis are half-price. Let's face it girls, we'll take a sale anywhere we can!
(Hunt: Those Martinis can get out of control! I used to love going to the Madison on Tuesdays! The only time where after hours on a weekday isn't frowned upon. And I did meet my fiancé there, so it DOES work!)
I like to start with The Organic martini, which is a mix of cucumber vodka with muddled strawberry, cucumber and lime. Light and refreshing, overall it is the perfect appetizer.
(Hunt: Isn't that the I'll just have a salad version of a drink?!)
My partners in crime have their own preferences of course. Cat likes to start off with a surge of caffeine with the Chockfull O' Nuts Martini, which has a mix of espresso, Frangelico, Bailey's, and Kahlua. That's right ladies, you cannot go wrong with vodka and espresso.
Marilyn likes to go with the Fugazi, a fig infused vodka with fresh raspberries and champagne. What is more refreshing than a hint of the bubbly? Top that off with a few playful exchanges with the cute bartenders to get the juices flowing and we're off!
(Hunt: My personal fave is whichever version of the Chocolate Martini they're doing at the moment. The only problem is that they are served in such small quantities! But at 2-for-1, just have a few more… Oh, wait, why is my cheek on the wall? Wait, why is the wall sticky… ohhh, can someone help me up?)
Delicious Decadence
Hunt: Once our hunger has been sated, it's time to slake our thirst! And while I still love rowdy pool table bars, when I'm out with my lady, I enjoy being taken care of and pampered. So, arm in arm, we walk along the Hudson River, watching the twinkling, magical lights of NYC smile on us. After only a few minutes, we pop into the W Hotel.
I used to love going to the Gansevoort Hotel and other sexy locations around the Meatpacking District. Now with the W, I feel like a slice has finally come to Hoboken. At the Chandelier Room, you can imagine yourself in any exotic locale you'd wish. Marrakesh? Along the Rhine River? Singapore? It feels sumptuous and decadent.
This is a place where I totally don't mind dropping some bucks on drinks. I'm paying to feel relaxed and attended to.
(Jess: Yes some things you just can't put a price on…)
After dinner, I like a nice Glenlivet 12 on the rocks. Now we get to curl up in front of the fireplace, listening to the bustle around us. Maybe a few glasses of champagne, maybe a Euro-style cheese plate for dessert. Maybe some more champagne. There's just something about champagne that makes you feel good, makes the night change into something more than ordinary. I can drink Miller wit da boys, tonight it's bubbly time!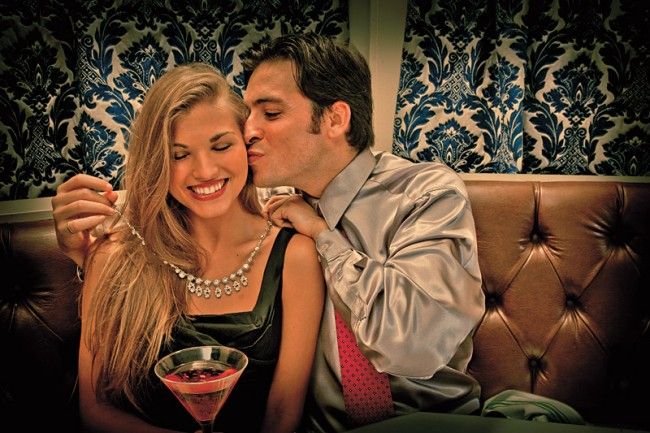 Dinner for Three
Jess: Next stop for us is dinner at O'Nieal's, With soft lighting and dark wood furnishings, it offers your crew a charming metropolitan ambiance for your dining experience. However, don't feel restricted to only dining at the tables. You and the girls can cozy up to the bar to have dinner.
They have a spectacular menu. On this particular night, I dined on steak, as did Cat. Really, what gives you more energy than the protein of meat?!
(Hunt: I think you only like to eat at the bar so you can flirt with the bartenders! Sit near the window and watch all the beautiful babies pass by!)
Not to worry though my fellow carnivores and sister vegetarians. There are many different dishes. Order your favorite dinner drink or a nice glass of wine, or better yet splurge on your favorite bottle of wine or two. After all, we work hard and deserve it!
Chocolate and Toys!
Hunt: After an undetermined amount of time, we stroll back out into the night, cheeks rosy and smiles wide.
(Jess: I see a lot of champagne was involved.)
I am lucky to have a partner that I love to talk to so much. We can chat about anything and everything either in depth or tangentially – like how we'd get Fox Mulder and Jack Bauer to team up together, laughing and giggling our way home.
There are two stops on the way back home! First, dessert! Real dessert! Stop in Lepore's Chocolates for heaven in a mouthful! Hmmm, that wasn't meant to sound as dirty as it does.
(Jess: S-U-U-U-U-RE!!!)
I love the chocolate covered cranberries and my baby loves her dark chocolate! Stop #2: Romantic Depot. Whether it's to pick up something fun or to just window shop, it's a fun and enjoyable time to be amazed and aroused!
(Jess: Wow, I guess nothing says I love you like adult novelty toys. Now I don't know when this started to be considered romantic, but I have to say I'm not a fan. After a lovely evening of being wined and dined, being taken to the land of special dolls, and products nicknamed the Rabbit, would really kill the romance factor for me. Am I alone here ladies!?!)
Fingers sticky with chocolate and heads full of mischievousness, we get back to our apartment. While being out in the Boken is always a good time, returning home is still a sexy thing! You can be completely at ease and uninhibited! As we settle in for a fun evening, I discover there is no more champagne! Well, there's always a fix for that! I call my buddies at Daniel's Wine & Liquor and they come speedily to my door delivering me cold champagne. As I pop the cork, Keren pops in a movie and we smile at each other as our night is far from over!
(Jess: I'm sure it was only the beginning. As to your prior query, my dear Hunt I never kiss and tell.)
Swinging From the Chandelier
Jess: After a good meal, we like to keep the party going at the ever posh Chandelier Room at the W Hotel. You'll be on top of the world literally as you take in the breathtaking views of the New York City skyline from the terrace. Inside, under the sparkle of the fantastic huge crystal chandelier, you can relax on a soft leather couch by the fireplace.
As the night slows down, grab another cocktail to toast to your fabulous night, while you lounge in one of the plush armchairs or spectacular hanging crystal chairs. Yes ladies, there is nothing else quite like it in this town, and we all love a little sparkle in our lives. The sky is the limit and Hoboken is our playground. Cheers to you!
(Hunt: I notice we leave off before leaving the bar. Methinks there may still be some evil little shenanigans that are yet to be gotten up to this night! Pray tell Jess, does anything come next? I know it did for me!)